By Doemela

| June 29, 2016 - 9:39 pm
Cyberguerrilla garlic Pidgin Client setup
Pidgin is the most popular instant message client for GNU/Linux, Windows, and Mac. You can download Pidgin from pidgin.im/download. For Mac, check out Adium, the native build of pidgin for Mac.
When you start pidgin, hit Ctrl+A –>> the Add… button to add an account.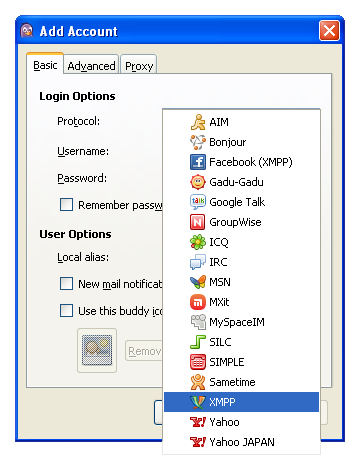 Select Protocol: XMPP
Under

B

asic tab, set these values:

Username: your CgAn username
Domain: xmpp.cyberguerrilla.org
Password: your CgAn Passwords
Under Ad

v

anced tab, set these values:

Connection Security: Require encryption
Connect Port: 5222
Connect Server: 127.0.0.1
File Transfer Proxies: proxy.xmpp.cyberguerrilla.org
You need to have already i2p running, if it's not the case, check https://www.cyberguerrilla.org/a/2011/?p=1748
You can't connect to xmpp.cgan.i2p right now because you have to set up the tunnel first.
Access to our jabber server:
xmpp.cgan.i2p
You may be able to
add it to your address book here.
Setup tunnel
Create a new tunnel with I2P tunnel manager http://localhost:7657/i2ptunnelmgr
Name : Cyberguerrilla XMPP
Description : Cyberguerrilla XMPP client tunnel
Access Point : Port: 5222
Reachable by: 127.0.0.1
Tunnel Destination: xmpp.cgan.i2p
Shared clients: No (leave blank)
Autostart: yes
Profile: Select" Interactive Connection" from drop down menu.
Delay Connect: No (leave blank)
Scroll down and save.
We use support for In-Band Registration, in-Band Registration is not advertised as a stream feature, protected with CAPTCHA (redirection URL), the minimum informational entropy for passwords = 32 Bit and the frequency of registration from a given IP or username = 1/20minutes. The
Web registration
limit CAPTCHA calls for JID/IP to 5/minute.
Using OTR
See the Off the Record tutorial for details on using end-to-end encryption with Pidgin.

You can follow any responses to this entry through the RSS 2.0 feed.